Laser Treatment
LASER RESURFACING TREATMENTS
A smoother and more even-toned complexion can be attained with laser resurfacing. The best candidates are those with fair, healthy and non-oily skin. You will see results for conditions such as:
Fine lines around the eyes
Vertical lines around the mouth
Facial scars from acne or injuries
Areas of uneven pigmentation including age spots
Lines on the cheeks from sun damage
Laser resurfacing procedures use a laser beam (energy) to vaporize the upper layers of damaged skin. The depth of penetration is accurate due to computer control of the beam. During healing, new skin cells grow from the remaining deeper layers to give you smoother and tighter looking skin.
Other options are available and will be discussed by Dr. Spies including Retin-A treatments and chemical peels. These are lighter resurfacing procedures that may need to be repeated in the future but do offer quicker recovery times.
WHAT TO EXPECT: THE PROCEDURE
Laser resurfacing is performed under general anesthesia at an outpatient surgical center. Sometimes, sedation anesthesia can be used if only parts of the face undergo the procedure. It usually takes 7 to 10 days to complete the resurfacing process. For the next 3 to 4 weeks, your skin will look bright pink or red which will fade over several months. Makeup can be applied to conceal the redness after the first two weeks.
Most patients will see a significant difference in the tone and texture of their skin. Although the results will be long lasting, Dr. Spies does recommend continuation of skin care products and sun protection to maintain the results.
Palomar Icon Laser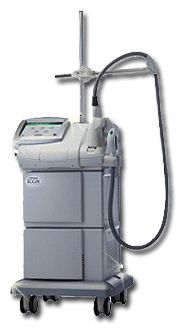 I am pleased and excited to announce the arrival of the Palomar Icon Aesthetic System to my office. This is the most advanced laser and pulsed light system available redefining the standard of care for laser treatments of the skin.
The Icon Aesthetic System allows me to provide my patients the most popular laser procedures including:
Permanent hair removal
Photofacial treatments
Laser skin resurfacing
Wrinkle reduction
Melasma improvement
Scar Treatment
Stretchmark treatment
I am also able to remove vascular and pigmented lesions from the face.
All procedures are performed safely in our laser-certified office. The new Icon Aesthetic System allows for faster treatment sessions and quicker results.
Scheduling an Appointment
In order to schedule an appointment for your laser resurfacing procedure with our office you may call us at 480.890.0600 or fill out an online contact form if you have any questions. We will be happy to guide you through the process and answer any questions you may have.